One of my decal customers sent me this 80's style modified body (I'm not dis'ing the guy, I just didn't want to
mention his name so he doesn't get blasted with requests for bodies... feel free to chime in, you know who you
are)...
Any ways, the term "Tribute Build" has been seeming to be the buzz word lately for builds that don't represent
any one specific car... So I guess this will fit into that category as a Craig Von Dohren tribute build. I took elements
from what seems like three different cars from the same time frame, whipped up a set of decals, and I guess I'm
going with that.
The body was cut to fit the Tobias kit chassis, so that's what I'll be using... modified quite a bit of coarse: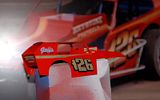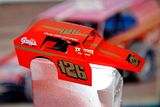 This is sort of a gap filler project so I don't expect it to go anywhere too fast, plus it's a bit out of my comfort zone
Mike G